It seems that this week EA had a press event in London (and I didn't even get an invite) and today the embargo on the information reveals is lifted, as
Sean Dahlberg notes
:
Star Wars: The Old Republic participated in the EA UK Press Event in London over these last few days. Starting 9am UTC/GMT tomorrow [That's 2am PDT, 4am CDT, 5am EDT], the embargo on this event will be lifted and you'll begin to see various updates across the web pertaining to this.

Feel free to post and discuss articles you find in this thread and I'll update the first post as often as possible.
And since then three articles (from two sites) that I'm aware of have been posted, with a fair bit of new information. First of all there's an explanation of how class specialization will work, and secondly there's the revealing of the first non-human playable race.
Eurogamer
has an article
explaining the advanced classes in detail. What it comes down to is that each of the eight classes has two advanced classes you can choose between. The example given was for the Sith Warrior, who can choose between a tanking-oriented Juggernaut, or a DPS-oriented (dual lightsaber wielding) Marauder. On top of that each of those advanced classes has access to three skill trees, two of which unique to the advanced class and the third shared with the other advanced class (giving each class a total of five skill trees). And though, being a pure gameplay choice, the story will be the same for the two advanced classes this means that effectively TOR has not eight but sixteen classes.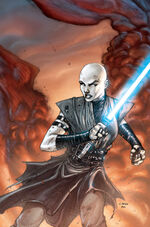 The other two articles, one
at Eurogamer
and the other
at The Galactic Struggle
, detail some hands-on experience with the game as the journalists were given the chance to play a (low level) Bounty Hunter. Part of this is the reveal of the first playable alien race:
Rattataki
(which is amusingly misspelled in both articles). It has also been noted that all playable races will be humanoid (which should come as no surprise).
And finally
a couple of new screenshots
have been released as well, showing the two advanced classes for Sith Warrior as well as some of the Bounty Hunter gameplay:
More articles are likely to surface in the coming days, in which case I'll add them to the following list (and probably make a separate post for them as well):
Sounding good so far.
[UPDATE] Added a couple more links as described in
this post
.
[UPDATE] Added link to YouTube video.
[UPDATE] Added link to Edge Online interview.
[UPDATE] Added link to GameSpot video interview.