As promised yesterday BioWare have posted the first video "documentary", meaning a video that's a combination of developer commentary, screenshots and ingame footage. And though the movie isn't entirely ingame footage (I'd say less than a third or it is, altogether) there's still a fair deal of it.
BioWare® and LucasArts™ share the vision for

Star Wars

™: The Old Republic™ in our first video documentary, complete with

new concepts

,

new screenshots

, and

real-time pre-production gameplay video

. Hear about the approach to storytelling straight from The Old Republic's Creative Director and Lead Designer James Ohlen and Principal Lead Writer Daniel Erickson, and watch Art Director Jeff Dobson discuss the aesthetic appeal of stylized realism. Watch the latest video documentary and experience the "look and feel" of

Star Wars

: The Old Republic now!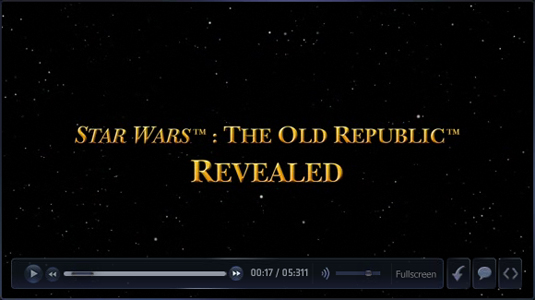 And indeed it looks quite decent so far (considering that it's pre-production footage). Though I still don't like their artistic direction (and I'm not talking stylized, I'm talking heroic proportions) it does in many ways feel like Knights of the Old Republic in a new jacket. And that is likely a good thing. Anyway, enjoy the video.
[EDIT] Since the embedded video played automatically, which is quite irritating when you're trying to read another post on the blog, I've changed the embedded video into a link to the video on BioWare's side instead.
[EDIT2] Replaced the text link with an image link.